Hello! My name is Ms Hickling and I am the Nursery teacher at St Joseph's. I am extremely passionate about Early Years and very proud of the provision and the level of care we offer at our Nursery. My favourite areas in my classroom are the playdough kitchen and the story book corner, where bundles of joy and learning happen all day every day! We are a small setting, closely linked with the FS2 unit within the school, and we provide a safe and stimulating environment in order to give your child the best possible start in their education journey. We offer places to children aged between 2 1/2 and 3 years old, accepting 15 hours 2-year-old funding, and both 15 and 30 hour funding for 3 and 4 year olds. Taster sessions are offered, free of charge. We currently have limited spaces, please contact us on 01472 690672 and ask for Ms Hickling for more details. I can't wait to meet you!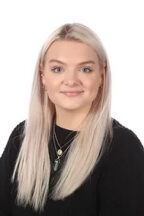 Hello from Miss Rawlings
Hello, my name is miss Rawlings, I am the teaching assistant in Nursery at St Joseph's, I'm a creative person, the craft workshop is where you will find me. I thrive off the children succeeding, progressing and reaching target's, I'm really proud to be supporting in our EYFS team and the children in our care.