Hello from Mrs Melling
I am the year six teacher and started teaching at Saint Josephs in 1998 meaning that I have taught parents, aunties and uncles of the current generation of Saint Joseph's children.  I think when I teach the grandchild of somebody I have already taught, it might be time to retire! I love it so much at Saint Joseph's that I left for two years and came back again! I currently teach year six, a year group I love and, as always, I'm having a lovely time with a fabulous set of children. My other roles in school include being assistant head, maths co-ordinator and educational visits co-ordinator.  My favourite things about teaching year six are story books, maths and topic work.  I really enjoy children's literature and love reading stories to the children; my favourite children's novels are set in The Second World War and include Carries War, When the Sirens Wailed, The Lion and the Unicorn, The Amazing Tale of Adolphus Tips, The Silver Sword and The Valley of The Lost Secrets.  I am an avid reader in my spare time and like nothing better than spending an hour or so with my nose in a good book! When I am not working or reading, I enjoy watching films and going out on my bike.  My children both came to Saint Josephs and are now at 6th form and university, they remember their time at our wonderful school with really happy memories.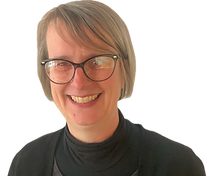 I am Miss Allen, a teaching assistant in year six with a 1:1 support responsibility.  In lockdown, I got into cake making and eating and I also really enjoy eating chocolate.  I spend a lot of my free time walking in the local area and like to visit new places.
I am Miss Collins, a teaching assistant in year six with a 1:1 responsibility.  I have a busy life with three children of my own to look after and I also really enjoy all things Harry Potter, reading and puzzles.  Although I have a specific role as a 1:1 TA, I also help out in school wherever I can.